November's Nonprofit Blog Carnival is right around the corner and, as the American holiday of Thanksgiving approaches, what better topic than that of gratitude and giving thanks to our wonderful donors, particularly as nonprofits continue to face attrition rates that would drive most businesses into bankruptcy.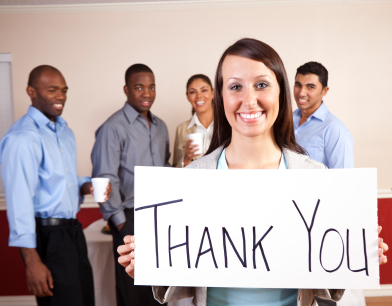 Indeed, while the recently released Fundraising Effectiveness Project (FEP) showed that nonprofits are seeing positive gains in giving for the first time in five years, as a sector we are continuing to lose donors faster than we're gaining them.
So, how are smart fundraisers combating donor attrition?  Take a cue from these fabulous examples, courtesy of Grow Report subscribers:
"The one thing that we, here at KVIE Public Television, implemented in the last 6 months was regular thank you calls by board members.

At first only a few participated but once they started having a fun chatting with donors, more and more volunteered! Plus having Penelope Burk's statistics on the matter was really helpful: "In a survey, 95% of donors said they'd be grateful if a board member called to thank them and 86% said they'd consider giving a larger gift." Board member: "Where do I sign up?" Can't wait to see what comes of it!

PS – THANK YOU for the Grow Report. I love grabbing my cup of coffee to settle in for the BlogRoll and some great insights. It's my morning awesome sauce!
"

Johnny Avots-Smith, 
Leadership Giving Officer
, KVIE Public Television

"The one thing that we implemented was homeowner thank you notes. Our stewardship had been a form letter from the CEO with standard, mission centric language.  The homeowners started hand writing notes saying what a new home meant to them and their families. We actually received donor calls saying, "that's the first time I've ever received a note like that."

Thanks for all you do and your invaluable insights!"

Lisa Barr
, VP of Development
, Habitat for Humanity of Brevard County, Inc.

"The one thing that we do is to send at least one hand written thank you per day, just to say thank you. It has been great and I have found it means so much to our donors."
====================
Lisa Wells
Down Syndrome Indiana
As Roger Craver of The Agitator notes, "taking positive steps to reduce gift and donor losses is the least expensive strategy for increasing fundraising income."
What steps are you taking to create an "Attitude of Gratitude" and develop strong customer donor service in your organization?  We'd love to hear some of the knock-your-socks-off ideas that you've used to say 'thank you!' and cultivate gratitude.  We're particularly interested in how you might be using social media, including video, to show impact and express gratitude.  Are you engaging board members and program staff in the process?  Write a post!
Bonus points for offering advice that can work for small organizations with limited resources.
Want to submit?  Write a blog post, or even choose a recent post that fits the theme.  Submit your post via email to: nonprofitcarnival@gmail.com – be sure to include your name, your blog's name and the URL of the post (not your blog homepage).
The deadline for submissions is end of day on November 22 (Friday).  Check back  on  Monday, November 25th to see if we've included your post in the November blog carnival.
Even better?  By submitting your post to the blog carnival, you'll bring new traffic to your blog and help raise its online profile. If your post is selected for inclusion in this month's carnival round-up, you'll get a backlink to your blog post (cool for search engine traffic, no?) and the chance to get your writing in front of new readers.
So, what exactly is a Nonprofit Blog Carnival?  It's a  monthly round-up of blog posts on topics directed at nonprofits. Each month, the host creates a  theme and sends out the call (in a post like this) for posts on that topic. Then the host collects the pertinent posts together and offers these up in a round-up post towards the end of that month.
To find out what this is all about, check out October's Nonprofit Blog Carnival:  Halloween Nonprofit Blog Carnival – Major Gifts Tricks and Treats from Claire Axelrad.  Or read more about blog carnivals on About.com.   And sign up for the Carnival monthly updates here.
We can't wait to read your submissions – be sure to submit your posts by end of day – Friday, November 22.  Oh, and thank you for submitting!