We're just full of paradoxes, aren't we?
Every day you're out there, dealing with society's most complex problems, and yet many of us are given next to no resources. We're expected to tackle serious issues as homelessness and human trafficking…while having our hands tied by funding restrictions.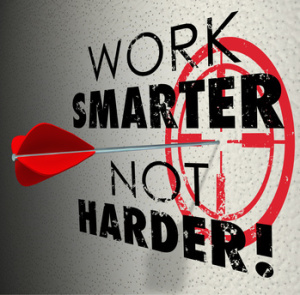 Of course you need to be savvy about how you spend money. But, as the saying goes: "It takes money to make money."
I see it all the time here in the Philadelphia region. When the economy takes a hit. When uncertainty begins to brew.  The first thing organizations do is cut their development budget.
Big mistake.
It probably goes without saying that those organizations are the ones who are now raising LESS money. In fact, many have closed their doors.
What about the organizations that take the opposite tack? Rather than eliminating their development director, they hired a consultant, or added to their development staff? Yep — they're raising MORE money — even in this economy.
 So what can you do to fundraise SMARTER — not harder?
Stay the course. Develop a balanced, thoughtful budget approach, one that includes realistic goals for grants and corporate support, individual support, program support and events. Plan for "multiple streams of income," yet with an eye to maximizing those activities which bring you the highest yield.  Does your fundraising consist of multiple events?  Chances are, unless your ticket buyers are converting into donors, the ROI is low.
Retain staff. This one is key. I have worked with nonprofit organizations who have had – seriously – five development directors in three years! How can an organization have any kind of continuity with donors with that kind of record? Staff your organization with quality individuals and do your level best to keep them. For more on retaining staff, download Keep Your Development Director.
Start a monthly giving program – and work it. This one is a no-brainer and I am astounded that more organizations have not picked up on it. If you've got donors who are giving you $1,000, $100, even $25 every year, they're prime candidates for a monthly giving program.  Check out my friend, Erica Waasdorp's book, Monthly Giving: The Sleeping Giant.  Enroll your organization in our self-paced online course, loaded with examples and four recorded webinars, Monthly Giving | Basics & More.
Refine (or define) your stories. Benevon calls it the organization's "emotional hook." It's your nonprofit's "story" – what makes donors give to you. The most compelling stories bring on the crocodile tears. Talk to your board members, talk to your clients, talk to your staff, talk to foundation funders and individual funders to find your emotional hook. Bring your mission to life. Nonprofit Storytelling, the quintessential class for gathering and creating your best stories is open for enrollment.
Retain your donors.  Retention fundraising is the smartest fundraising.  The book, Retention Fundraising: The Art & Science of Keeping Your Donors for Life, should have a prominent place on your bookshelf.
Start or grow your direct mail program. Far from being *dead,* direct mail is often at the center of successful major donor programs. Our members and students who have added direct mail – or increased their mailings – have grown exponentially. If you're only mailing out one appeal a year, test adding another. And, if you haven't explored the revenue power of direct mail newsletters, what are you waiting for?
'Get' this thing called donor-centered fundraising.  It's not a buzzword, it's not a trend.  It's not manipulative or exploitative (when done right). When you truly grasp the fundamentals of what it means to be donor-centered, your fundraising will literally flow.
Start a planned giving program. Your organization doesn't need a team of lawyers and all those fancy marketing brochures the planned giving companies will try to sell you (trust me, those are a turn-off!). This is far, far less complicated than you might imagine as you'll discover in our Planned Giving Intensive | Basics & More™ class.
Develop your organization's culture of philanthropy.  Invest in smart fundraising training (like Basics & More™ U) that includes your entire organization, from volunteers to board members.
You'll find when you operate from a place of abundance, rather than lack, and fundraise smart with an eye to long-term success, you'll ride out any storm.
In the words of Robert Kiyosaki, "You have to be smart. The easy days are over."
---
Edited on September 12, 2018.