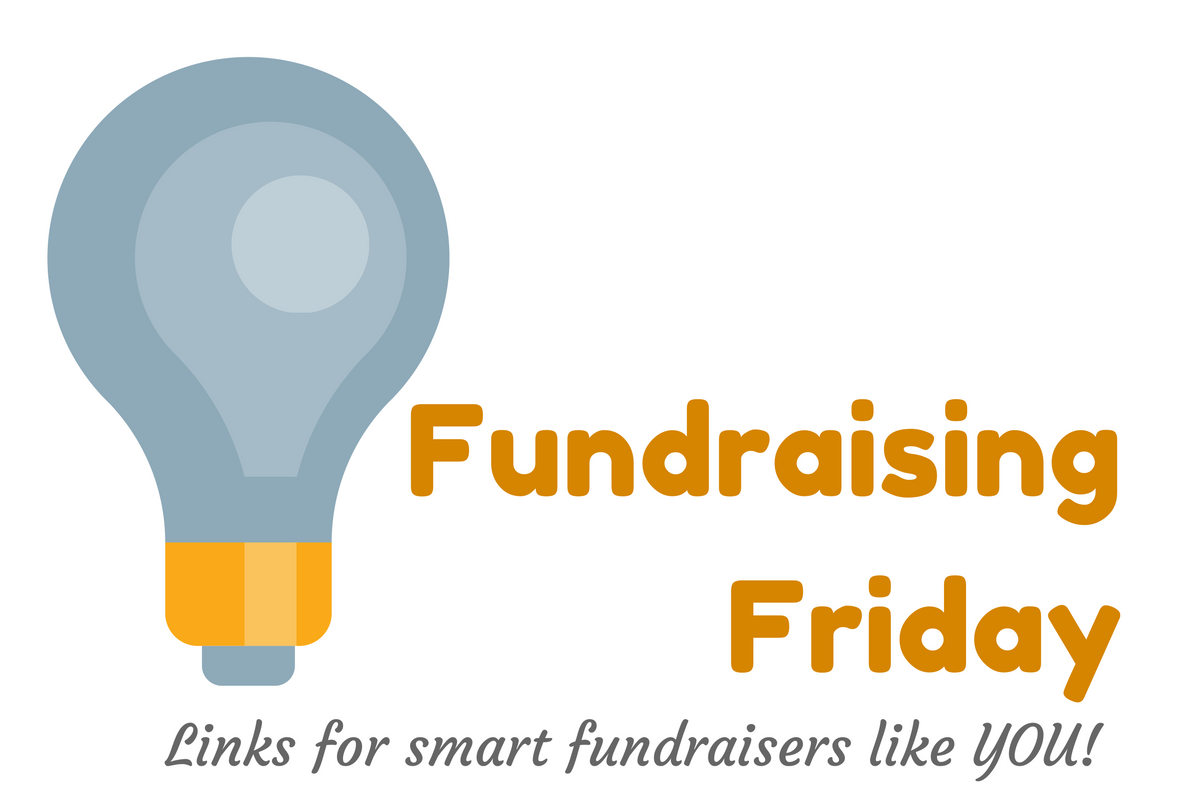 ---
The Agitator's Nick Ellinger has a new book out! Read my review to learn why it should be on every fundraiser's bookshelf.
"Nearly 59 percent of nonprofits said live events are critical for attracting new donors, but just 18 percent of donors said they've learned about a charity through a live event." Guess what? Nonprofit Communications Don't Resonate With Donors. New from The Chronicle.
What's the Latest and the Greatest Fundraising Idea? Hello? I've only been talking about this for well over a decade. Why do you think I named our classes Basics & More?
Incorporating Peer-to-Peer Fundraising as a Year-End Donor Acquisition Strategy Great ideas here from my good friend, Robin Cabral.
We've all been there. Starting a new job at a nonprofit and learning that you're pretty much on your own. Helen Brown with Welcoming Your New Employee.
Are you using video yet? One of the best uses of video is for stewardship. I put out a Twitter call for best thank you video. This one is gratitude gold.
Is your organization ignoring or offending women? Roger Craver over at The Agitator with The Insanity and Stupidity of Ignoring and Offending Women.
GAH! Another meeting? Beth Kanter with a guide to inclusive walking meetings.
What are your fundraisers saying that you need to hear? From Mary Cahalane.
Introducing Quilty the little cat who could go viral, courtesy of Friends for Life in Texas. Read about him in Power of Nonprofit Storytelling.
What if you could "pre-suade" your donors to give before they even received your year-end fundraising appeal? That's the concept behind the "warm-up" and here's a terrific example from Intervale Center. This week's What's in my Inbox.
Are you ready for end-of-year fundraising? Download Your Free End-of-Year Fundraising Checklist to ensure you've got all bases covered. You're welcome.
Finding inclusive photos for your communications can be tough. Kivi to the rescue with Six Inclusive Stock Photography Sites Every Nonprofit Should Have Bookmarked. Great resource.
A survey released by the Chronicle of Philanthropy and AFP recently revealed that 25% of female fundraisers have experienced sexual harassment in their careers. Ninety-six percent of the perpetrators were men. And 65% of people harassed said a donor was the culprit in at least one incident. Connecting the Dots on Sexual Misconduct in the Philanthropic Sector.
What if you could teach your dog to talk? Imagine the communication you could have. "Talking" dogs could be right around the corner, thanks to one speech pathologist and her dog, Stella.
Archives
How do you get your colleagues to be more donor-focused? When you've developed a true culture of philanthropy in your organization, your fundraising soars. How do I know? It happened for SDS member, Mandy Fischer and it can happen for you too. Download Mandy's "Culture of Philanthropy One-Pager," discover these other resources, and get started!
As heard on Twitter
This just in from the brilliant Lisa Sargent. If you're writing year-end/holiday donor thank-yous, #fundraisers, and if you send appeals, you should be…
Remember: just one won't do.
You at least need a beautiful base TY modified for your:
– Single-gift (aka cash) donors
– Monthly donors
Monthlies who also give cash